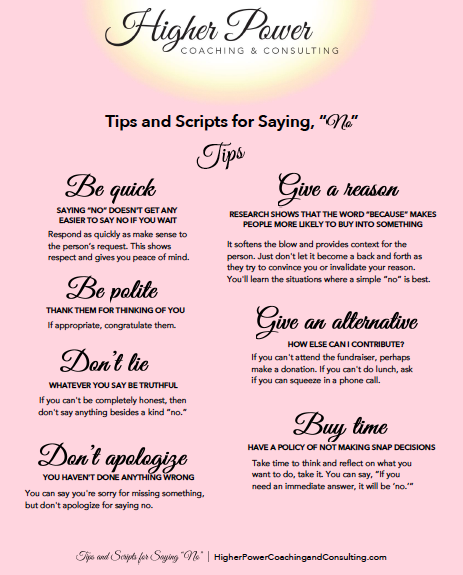 Tips and Scripts for Saying "No" Handout
This handout has tips and scripts for saying no in all kinds of situations - with family, friends or colleagues.
My top 5 podcast episodes for people who need to set boundaries so they can recover from codependence:
Some tips to help you recover from codependence
"You gave us a totally new way to see things...You cut to the chase and put up fences. I'm a farmer (was) and fences with gates were sooo powerful. Properties have them too but not only did you draw them you carefully explained how to use them. I learned not just how to keep things out BUT to keep things in.... faith, integrity, time. There were things outside the fences and inside." ~ Anonymous workshop participant
"I am absolutely loooving the metaphors you used, and it's working wonders. Seeing miracles already." ~ L.
"I can't stop thinking about your amazing [boundaries] webinar!! I learned so much. Turning off the notifications for texting has
really changed my life. I feel much more present and less stressed [having set that boundary]." ~ J.
"I have never seen boundaries presented in such an amazing way. I will be working on it diligently in the next few days and weeks ahead. Love the fences and visuals." ~ Anonymous workshop participant
Like what you've read and heard?