Stop the Self Hate
If you hate yourself (or maybe even loathe yourself), I can help you grow to love yourself. Even if you don't believe it's possible!
Substance Use & Compulsion Recovery
If you're a "dry drunk" or lost your serenity and want to become happy, joyous and free, I can help!
Boundary Setting
As a former codependent myself, I can help you recover from codependency, set healthy boundaries and keep the focus on yourself!
I've transformed my life repeatedly - financially, physically, emotionally, psychologically and professionally, so I know what it takes to transform your life!
Barb Nangle
Mission: The mission of Higher Power Coaching & Consulting is to help people heal their emotional, psychological and spiritual wounds, and change their entrenched patterns of dysfunctional behavior. HPC & C empowers people to thrive by taking more control over their lives by building personal and professional boundaries.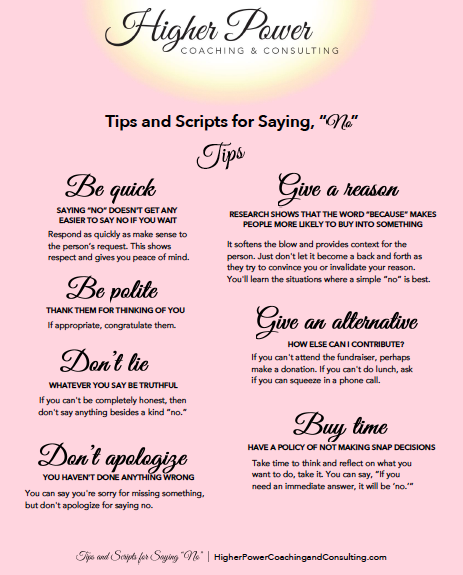 Tips and Scripts for Saying No in all kinds of situations - with family, friends or colleagues. You'll also be signed up to receive my newsletter. 😊
7 tips you can use over and over again!
11 scripts with the EXACT words to say no to people!
"Within four weeks [of coaching] with Barb, I had experienced more growth than I had experienced in 4 years with my private therapist. The person I have become with the help of Barb's guidance is a person that I, for once in my life, truly love. The person I spent years hoping, wishing, and wanting to become is now living in MY body." ~ C.
"You were able to clearly and vividly express your ideas. You're an active listener and you really validated my feelings and my experiences, while also helping me to see things with new eyes." ~ P.
"When I returned to work [after summer coaching with Barb] I was able to do a better job and support my colleagues bc I was able to detach and be the stable force. And I no longer over-schedule myself on weeknights." ~ I.
START YOUR COACHING TODAY!
Request a free initial consultation with Barb to get inspired, feel motivated, and achieve growth.